The Unwavering Greatness of WNBA Legend Sylvia Fowles
This story appears in the second edition of WSLAM 2. Get your copy here.
How do you measure legacy? More specifically, how do you measure the legacy of 15-year WNBA veteran Sylvia Fowles?
Do you measure it in championships? Fowles has two titles.
Is it in awards? She's a two-time Finals MVP, the 2017 League MVP and a four-time Defensive Player of the Year. 
Or perhaps you measure Fowles' legacy based on her international résumé? In that case, four Olympic Gold medals with USA Basketball sounds pretty solid. 
However, if you talk to Fowles, these are not the things that matter most. Everything Sylvia Fowles has accomplished in basketball has been to prove to herself and her close circle of family, teammates and fans that she can still ball. 
On media day, we asked Fowles' 29-year-old Lynx teammate Damiris Dantas about playing with the legend during her last season. The Brazilian forward, who usually keeps her comments in English brief, perfectly described the true legacy of Fowles:
"I'm so happy because when [I started to play] basketball in Brazil, I see my Big Mom in here and I think, Oh my gosh, I hope one day I go to play this girl, because I watch video. I watch the games…in Brazil, and now I have good opportunity to play together. She's so good not only in the court, outside the court. Good teammate. So for me, it's more special to be here and play together [with] my Big Mom, Syl." 
The 2020 Olympics were like no other. To begin, they weren't held until 2021. The global coronavirus pandemic has impacted everything for the past two-plus years, let alone sports. Nevertheless, Team USA and athletes around the world prepared amid the unknown. For the United States, this meant a quest for five consecutive Gold medals under head coach Dawn Staley. 
Fowles averaged 5 points and 4.2 rebounds in her 62 minutes during the 2020 Summer Olympic tournament. Don't be fooled by these numbers. They are more indicative of the depth of USA Basketball than any declining productivity on Fowles' part. 
"Everyone knows that coming to Team USA your role pretty much changes," the LSU alumna said last August during the Olympics. "You have to be mentally prepared, and it starts in practice, making sure you're getting that starting five ready."
Fowles accompanied Brittney Griner—who is currently missing the 2022 WNBA season after being, according to the US government, wrongfully detained on drug charges in Russia—as the center or true 5 position during the Tokyo Summer Olympics. The duo accounted for nearly 25 percent of USA's 273 rebounds in six games. 
After securing her fourth Olympic Gold medal, Fowles announced she was done with her USA Basketball career. 
Stepping away from the national team was just the beginning of the end of the future Hall of Famer's goodbyes. She'd have less autonomy regarding her exit from the WNBA and more specifically, the Minnesota Lynx, though. 
"I actually wanted no part of the finale at all. When we started talking about me coming back, I tried to express and stress to my agent and Cheryl [Reeve, GM and head coach of the Lynx] how I just wanted this thing to be smooth without the attention. And they was not going for it," Fowles told the media in February when she announced that she'd re-signed for her 15th and final WNBA season. 
"So if I would have had my way, I think I just would have kept [it] under the radar only because I felt like this is my job. I appreciate, like, the love and the support, but I wasn't looking for the big hoorah to say that this was my last year," Fowles said.
The Lynx and the League have other plans. "We really want to take this entire season to celebrate Syl and the amazing person that she is," Carley Knox, Minnesota's president of business operations, told The New York Times in May. 
Although not what Fowles wants, this is what she deserves.
In recent years, basketball has evolved into a positionless game. At every level of men's and women's basketball, you find post players who have difficulty with their midrange and three-point shot—players who weren't raised to play all over the floor. There are also post players who struggle in the paint. The same is true of guards who love to drive but struggle with turnovers. 
Two things that never goes out of style are defense and rebounding. As the shot charts for her post-position contemporaries have changed, Fowles has adjusted on the defensive side. She is the all-time leading rebounder for the WNBA. She has won championships while drawing defensive assignments against the aforementioned Griner and fellow MVPs like Breanna Stewart, A'ja Wilson and Candace Parker. 
Fowles is also the only active player shooting at a career 100 percent clip from three-point range, because she's 1-1 from the arc. No misses! Jokes aside, Fowles has learned to contribute offensively with consistency, if not from the deep range we see as common with younger players like the Liberty's 6-10 center Han Xu—who is 11-23 from the arc in her career, by the way. 
Fowles has eclipsed 6,000 career points (and counting), shooting nearly 60 percent from the floor and 73 percent from the foul line. Her consistency is what dreams are made of if you're a general manager or head coach. 
Reeve believes the stat sheet doesn't even tell the full story. 
"I think in terms of her dominance, physically, I think it starts there with her competitive drive, her passion, her will to win," says Reeve, has coached Fowles since late in the 2015 season. "What that produces in the way of statistics and rebounding, look at where she is in double-doubles." 
Fowles began her dominance in the post with the Chicago Sky. She earned All-Rookie honors and her first of 10 All-Defensive honors in Chicago. However, she missed most of the 2015 season as she waited for a trade. Fowles wanted out of Chicago, the franchise that drafted her second overall in the 2008 WNBA Draft.
Just as it looked as though she might miss the entirety of the season, the deal with the Lynx came through. Fowles averaged 15 points and 8 rebounds per game in her first 18 appearances with Minnesota. She ended the 2015 season as a WNBA champion and Finals MVP. And so continued her rise as perhaps the best center in WNBA history. 
"You know, where would she be if she [hadn't] had a half season that was taken away from her in Chicago? The field goal percentage, just the way you have to scheme for the offensive rebounding, the defensive rebounding. So every statistical category that you can think of, Syl has dominated," Reeve says. 
"Sylvia Fowles is a center in the truest form, and there's not been anybody like her. And it'll be a long time before there's another Sylvia Fowles."
The story could end right there. But the most consistent stat for Fowles is her infectious and joyous personality that outmeasures her 6-6, 219-pound frame. She is known off the court as Sweet Syl and if you've ever been on the receiving end of her hugs or smiles, you know exactly why. 
"I didn't really truly understand the nickname Sweet Syl until I got here, because I never saw Sweet Syl when I was in a different jersey," Lynx forward Natalie Achonwa said during Lynx media day. The Canadian has also battled against not-so-sweet Syl in international competition. 
When Achonwa arrived in Minnesota as a free agent last year, she was drawn in by Fowles' leadership style. "The way that Sylvia plays and the dominance that she plays with is very different from her leadership," Achonwa added. 
Fowles is described as sweet and a mother-like figure by her teammates. She is nurturing and encouraging as a teammate and part of her reason for coming back for one more year is to challenge herself to be an even better and more vocal leader. 
"I think that's one thing that I lacked, was me being vocal. And being vocal was always a challenge for me. So I'm challenging myself to make sure I speak up as much as possible and teach as much as I can, too, while I'm here in my last year," Fowles said during Media Day. 
If this is her last hurdle—well, that and proving she can still hoop, and even dominate, at 36 years old—Fowles won't be disappointed. 
And neither will her fans. 
---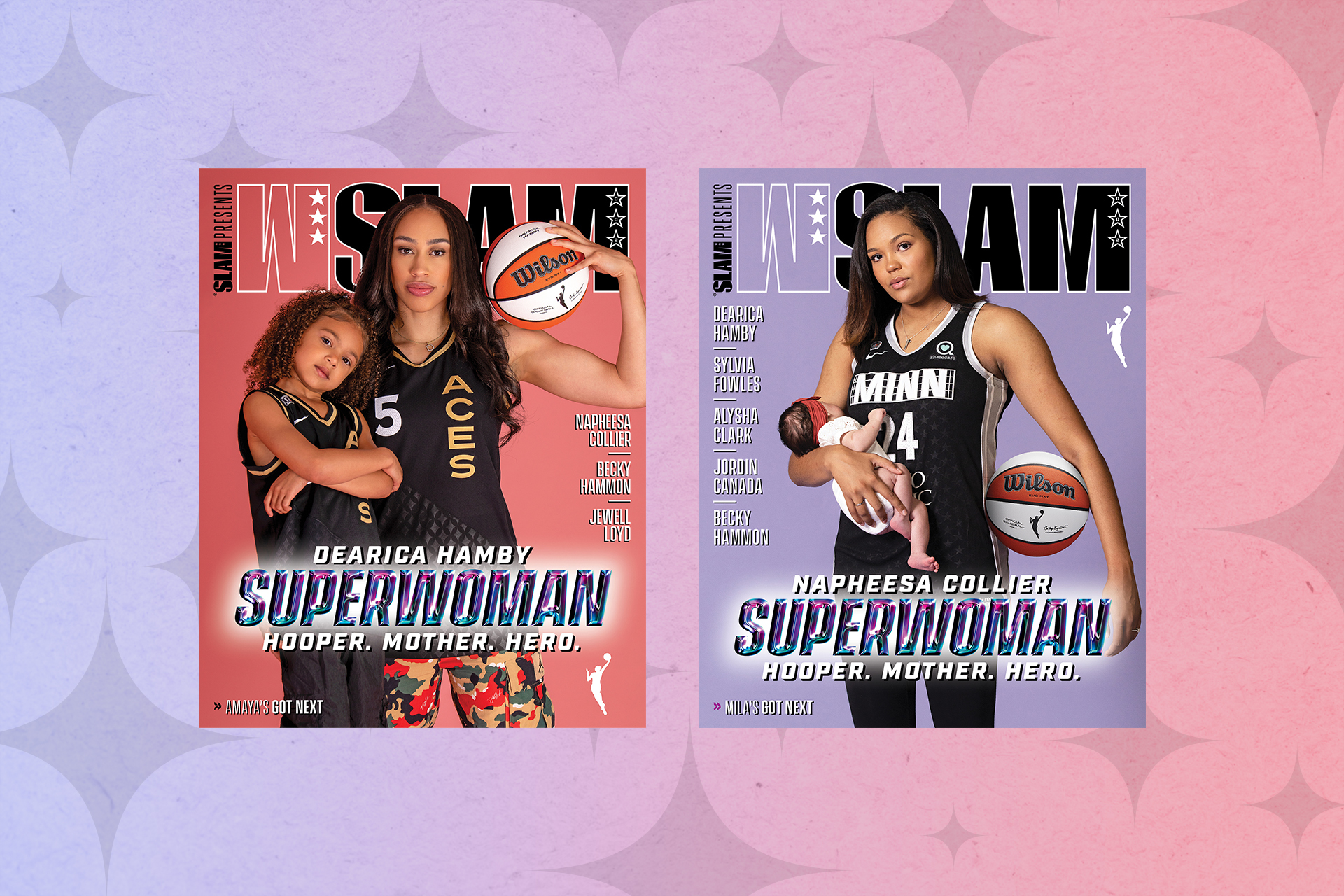 WSLAM 2 is available now. Get your copy here.