QORE is Elevating How Women Can Rep Their Favorite NBA Teams
The real ones know that basketball, at its finest, is all about self expression. Every dish, dime, dunk and those oh-so beautiful dribble combos have not only connected people from all around the world, but it's shifted the culture, defined trends, and, in many ways, the fashion industry. The NBA and WNBA tunnel has become a runway (right Leaguefits?), and fan apparel is as much a part of one's style as it is their sports memorabilia collection. 
And yet, even with all of this ever-evolving change, women are not always the intended-focus when it comes to designing basketball apparel—all too often, jackets, tees and even jerseys are either distinctly hyper-feminine, or unavailable in smaller sizes. That's why QORE, a fashion-forward brand founded by Harry Ling and Banjo Albano in 2019, has made it their mission to create a fashion-forward brand exclusively for women NBA fans. 
"We want to build a brand around women and give them something cool to gravitate to," Ling says. "We are here really to rep women, and we intentionally, other than Banjo and myself, are hiring only women. [Qore] is going to be a brand grown by women." 
The QORE "New Legacy Collection" is available now!
QORE intertwines the nostalgia of the game with a fresh, and completely new take on women's NBA lifestyle and athletic wear. Rather than stick to the status quo—or the notion that women's apparel should be shrunk down in size and come in different shades of pink—QORE puts a unique twist on women's athleisure wear and how female consumers can rep their favorite teams around the League. The brand has everything from vintage jersey-inspired oversized hoodies, NBA crop pullovers, windbreakers, and an everyday jacket that can be worn to any function, whether that's courtside or on your way to the gym. While the design features Bulls, Knicks, Warriors and Raptors team logos on the back, all of the fonts are designed by QORE's in-house graphic designer.  
QORE, which is currently available in 10 NBA venues around the country, just dropped their New Legacy Collection, which features retro, 90s-inspired NBA hoodies and sweatpants and even graphic tees. The beauty is in the details, too, as each piece features the signature NBALAB logo with a completely fresh and new design. 
The brand's influence, in Ling's own words, is a mixture of their roots, from growing up in the '90s to their Asian heritage and identity. "Nostalgia to me is everything. It represents all your influences and childhood and the things that shaped your own identity and culture. For myself, the vintage logos [are] definitely rooted in the sports wear [brands] from my childhood; Sean John, Phat Farm, Polo [and] Polo Sport."
QORE's logo is an ode to the past and the era of CDs, while its namesake, which is pronounced core but spelt with a q, comes from the idea of inspiration coming from the center of one's core.  Having lived in different parts of Asia—Ling in Shanghai, Albano in Manila, and Chloe Kim, who leads the brand's marketing, in Korea—the brand is also heavily inspired by the style and fashion trends from around Asia. "I know for me, going to Tokyo from Taipei was like a regular thing and I just loved the way people embraced a style there, they were so passionate about what they followed," Ling says. "I loved all the oversized fits in Japan, from the double pleated khakis that were super oversized to the simple items like hoodies and long sleeve tees that they just made oversized but fit right." 
Ling, who grew up in the Bay area and is first-generation born Taiwanese-American, saw firsthand the impact and growth of basketball during his time in Shanghai. After moving to Taiwan, he soon discovered that his family even had ties with the NBA—Ling's uncle owns SpecSeats, a folding chair business that makes courtside seats at NBA and NCAA games. 
While working with his uncle to rebrand the company and build their online and social media presence, Ling got his first opportunity to build a relationship with the NBA. When he decided that he wanted to start his own fashion brand, QORE, that connection led to a meeting with the League in New York and eventually a partnership with NBALab. QORE officially got their NBA apparel license in September of 2019 and launched in February of 2020 during NBA All-Star Weekend in Chicago. 
At its core (no pun intended), the vision of the brand is to take women's sports apparel to the next level. Ling and Albano, who met in Manila, both felt that at the time, no one was "really messing with" women's fashion in the fan apparel space like that; and those who were are simply sticking to a more-feminine color scheme or making jersey-style dresses. Albano, who has worked in marketing and even ran his own agency that handled NBA athlete visits with major sneaker brands, including Nike and Under Armour (he also was a part of the group that started SLAM Philippines), saw personally how important it was to bridge the connection between women and sports apparel. Growing up in Staten Island, Albano, who is one of six children, all of whom played basketball (Banjo went on to play at Hunter College, and then overseas in the Philippines), would watch Knicks games on Christmas day with his family every year. His sisters, he recalls, would always steal his oversized hoodies. 
"That was part of the story: building something for women. I have a 16 year old daughter and six nieces, [many of whom are] somewhat in fashion in the game as well, so [we're] creating something that, as a basketball fan, would be a little different from what traditionally have been on shelves." 
Keep your game days cozy in QORE's "New Legacy" Collection. Shop now.
Not only is QORE designed for women, but the brand's creative vision is led by Kim, who joined the team a few months after they got their license. She's been there from the beginning, and even was a model in one of their very first shoots in New York back in 2019. With a background in development production for contemporary designer brands including Alexander Wang, Chloe has played an instrumental role in elevating QORE's influence and design, from leading their social media presence and managing customer experience, to creating mood boards and being inclusive when it came to selecting models for their marketing campaigns and photoshoots. 
"I just really loved their vibe," Kim says on a Zoom call with Ling and Albano. "I loved what they were trying to do with the business and how they're trying to [go] into the women's wear market with NBA license goods. I felt like they might [have] needed a little [bit of] a woman's touch," Chloe says, adding."[Now], we're slowly changing the paradigm of how NBA [licensed apparel] can be worn in real life, even when it's not a game day." 
When it came to the brand's direction, Kim saw a vision for QORE to not only appeal to basketball fans, but to women, like her, who are maybe more into fashion. 
"In the future, we definitely want to [produce] innovative designs that [some] NBA licensed brands haven't [explored], like bra tops, skorts, oversized t-shirts [and] varsity jackets. Something more of a statement piece that will really show our DNA."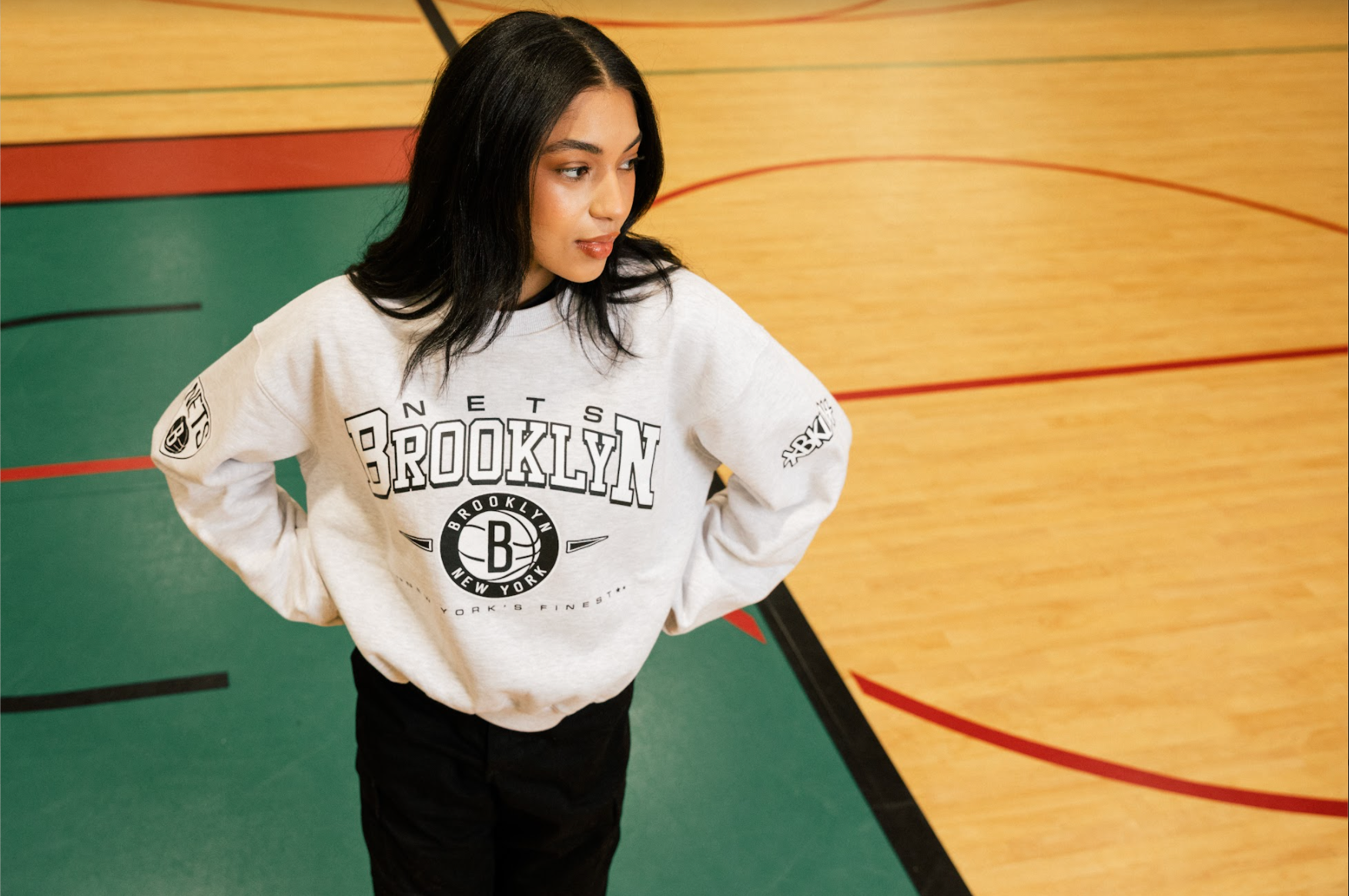 For QORE, this is just the beginning, as Ling mentions that the brand is gearing up to "rock" the WNBA fan apparel space. They're also intrigued by the recent wave of upcycling and crossover between art and basketball, citing artists like Tyrrell Winston. "I love to see these artists take their love of the game and interpret [it] their way. Like upcycling to me with fashion and fan gear can create some really dope shit, and that's something I'm very interested in exploring as we mature."