Allisha Gray is Transcending Her Game as an All-Around Standout
This story appears in the second edition of WSLAM 2. Get your copy here.
Underrated.
Allisha Gray is—understandably—over the word that has often been used throughout the WNBA to describe her.
"It's time to get rid of that underrated label. I'm tired of that," the typically quiet, unassuming Dallas Wings guard laments. "Every year that's all you hear: Allisha Gray is the most underrated player in the League…She's so underrated…
"She's underrated because no one is paying attention to her but she's doing her thing on the court," Gray continues. "Allisha's been underrated her whole six-year career, maybe it's time to pay attention to her."
If you do pay attention, what you'll see is a real life Energizer bunny in braids and goggles (hence the nickname "Goggles Lish"). You'll witness Gray diving to the floor and tussling with opponents for loose balls; blocking shots with a vengeance; seemingly coming out of nowhere to steal the ball and sprint coast-to-coast, scoring on a layup; passing to an open teammate and playing both ends of the court like it's an extreme sport. She tops her team in minutes played at over 30 a game and literally goes crazy offensively and defensively, sprinting up and down the court the whole game, scoring on one end then getting back on defense to make sure her opponent doesn't score.
She's a crucial member of this young Wings team looking to make a deep playoff run this season. Currently, Gray is the team's second leading scorer with 14.6 points per game and leads the team in blocks (she's No. 7 in the League in blocks per game at 1.2 as of June 8). Through the team's first 11 games of the season, she had two 20-point games, including a season high 24 points in a matchup against the Las Vegas Aces.
The six year WNBA veteran—the League's 2017 Rookie of the Year and an Olympic Gold medalist (3×3)—impacts the game in ways not revealed on a stat sheet. She's having a fantastic season, one that could end with her reaching a goal close to her heart: landing a spot on one of the WNBA's All-Defensive teams.
"I feel I have been under the radar. We all know people pay attention to scoring and not the whole body of work of a player," Gray says. "People pay attention to the person who puts up 40 points but won't notice the person who had 5 or 6 steals, 10 rebounds and no points, but impacted the game just as well. I am an all-around player. I do it both on the offense and defensive ends.
"I expect my name to be on one of those defensive teams at the end of the season. I'm playing the best defense of my whole career this season. I guard the best player on the team every night and have to produce on the offensive side as well."
One person who doesn't overlook Gray's game or contributions is Dallas Wings coach Vickie Johnson, who calls Gray "one of the top three two-way players in the League.
"I think now you see her growth on both sides of the basketball; now you see her maturity on the court," Johnson said. "With her six years in the League, it's huge now. She understands who she is, she takes pride in guarding the best players on the other team and she doesn't drop her head.
"I wouldn't say she's underrated. I think it's a matter of her speaking out for herself," Johnson said. "Like she [Allisha] said, she deserved to be on the All-Defensive team [last year] and that's huge for her. That's one of her goals. I think she'll accomplish that goal this year."
The 27-year-old soft-spoken Gray won the 2017 national championship in her first season of eligibility at South Carolina under legendary coach Dawn Staley (in a championship game that ironically was played in Dallas). She has never been an attention-seeking person, opting instead to lead by example and allowing her on-court play to tell her story.
But she also understands the importance of advocating for oneself and has finally found strength in not just her game, but in her voice as well.
"I am glad I am now getting the attention I deserve. My dad always told me the squeaky wheel gets the oil, so it's just like within me," Gray says. "I'm at a point in my career—in my sixth season—it was just time for me to speak up and let people know I am here and I work hard. You can look at the numbers and I can have 0s all across the board, but I held my opponent to 8 points; well, that's a win for me because I did my job."
Her ability to be an effective two-way player lies in her consistency. Now there's a word she doesn't mind being associated with.
"Consistency. That's a trait that many people don't have. You know what you will get from me every night; you never have to guess what you will get from me in practice, on the court, in the game," she says. "I feel like I am just that same, consistent player that will give you the same thing every night.
"I've always worked on my game to get better. I have been the same consistent player the whole six years in this League. My stats have also increased, especially assists, blocks, steals, rebounds and free-throw percentage," Gray continues. "Each year I've improved my game so, yeah, it's time to get rid of that underrated title."
While enjoying another breakout season, Gray is also looking toward the next five-to-10 years on and off the court. On the court she "definitely sees some championships, All-Star appearances and another Gold medal."
Gray put on a spectacular performance as a member of the US Olympic 3×3 Women's Basketball Team. They competed in the 2020 Olympics in Tokyo and went 8-1 en route to earning the first Gold medal in Olympic 3×3 basketball history.
"That Gold medal was a big achievement, representing America, all eyes are on you to compete and win," Gray says. "The USA has that standard of winning Gold medals—especially on the basketball side. I am glad we won and were the first to do it. We will always go down in history for that."
However, Gray reveals she has officially retired from 3×3 and has set her sights on a new Olympic goal: becoming a member of the 5×5 USA Women's National Team. "Hopefully, I pray that I am in Paris [2024 Olympics] to win a Gold medal there."
Off the court, she is carving out space in the business world as a budding entrepreneur. "One day the ball has to stop bouncing. I'm looking at what's next,  what other ways can I make money and go into business," says Gray. Currently she dabbles in crypto-currency investments and runs an RV-rental business with her brother who handles the mechanics, and her boyfriend, who along with Gray handles the bookings and communication with the customers.
"We bought an RV and we just rent it out to people. It's like an AirBnB on wheels. We deliver it within a 60-mile radius or they come to pick it up [in her hometown of Georgia]; take it for a couple of days or however long they want," she says. "Business is really booming right now!"
In the meantime, Gray remains focused on the Wings' season and helping her team make it to a deep postseason run. She starts her mornings getting into a positive frame of mind by listening to gospel music from some of her favorite artists like Rance Allen, Mary Mary and Kirk Franklin.
"It just helps me start my day off in a positive light and just hearing the word of God," she says. "I just love the positivity that comes from the music." Gray is also an avid gamer who can be found during her downtime streaming on Twitch and playing Call of Duty Warzone, GTA and more recently FIFA 22.
She remains grounded and mentally strong through constant communication and a closeness with her parents, whom she calls her "real-life heroes."
"They sacrificed so much for me in life. I am glad I was able to make it to the League to show them that all the sacrifices they made for me paid off," says Gray, recalling her parents driving her "up and down the road" throughout Georgia when she played AAU basketball.  
"They didn't complain once about it. They could have been doing something else but they put everything they were doing on hold to help me get where I am today," she says. "That's why I am very thankful for my parents. They turn clouds into sunshine; they are my rocks; they mean everything to me. They are my happy place."
Another happy place for her is the basketball court, where she hopes more people will see her in action.
And that spot on a WNBA All-Defensive team? She's coming for it.
"I feel like last year I was snubbed honestly, of being on one of those defensive teams, and now I'm putting it out there so people can pay attention early and realize, Yeah, she deserves to be on this defensive team."
Watch her in action and you'll probably think so, too.
---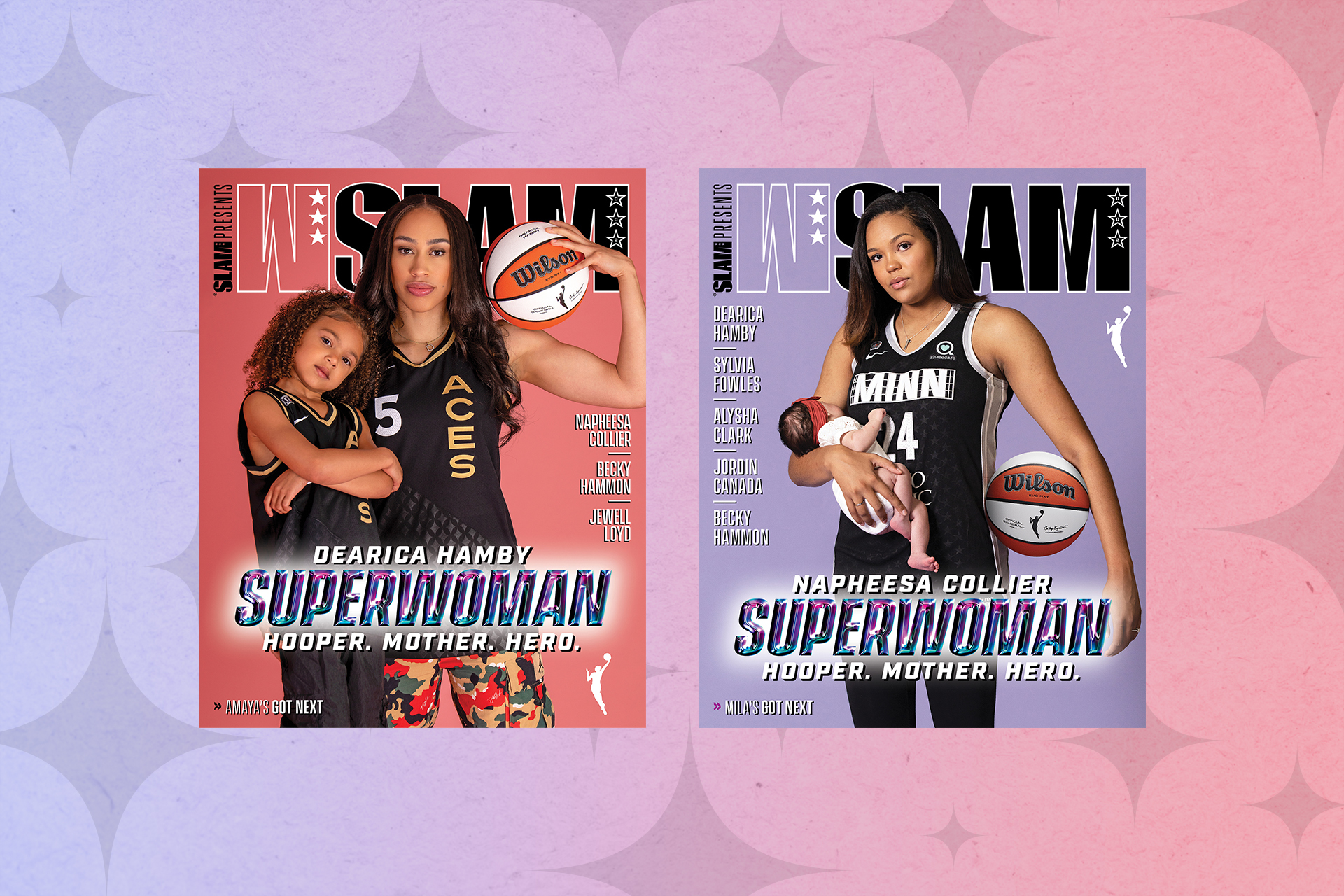 WSLAM 2 is available now. Get your copy here.
Photos via Getty Images.